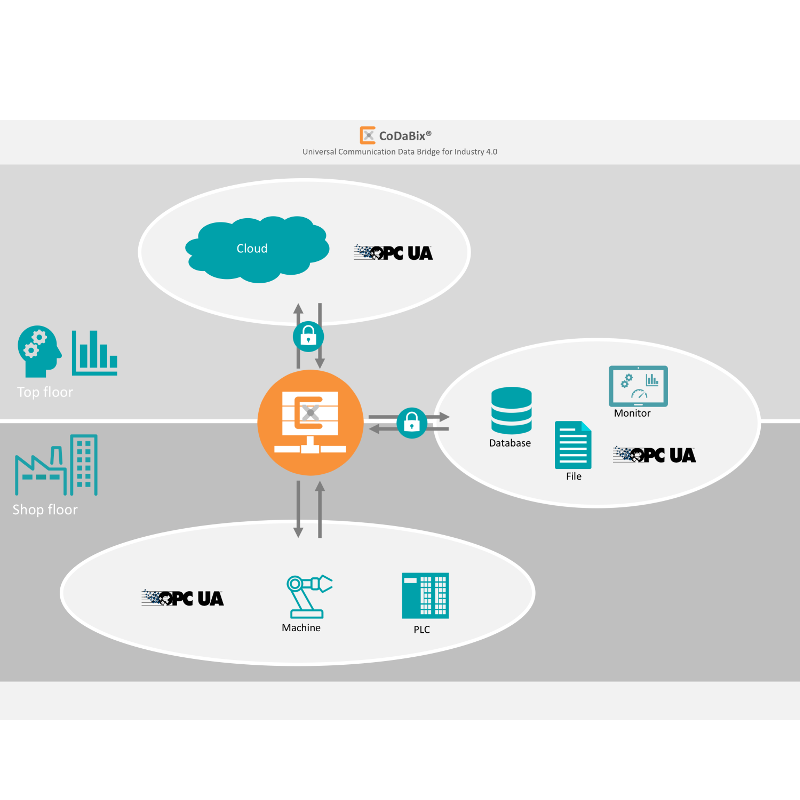 single-license:
Art. ID.
price
to the accessories
CodaBix®
Communication Data Bridge Industrie 4.0
OPC-UA server/client
REST/JSON-interface
SIMATIC-S7, CSV, SQL
Historical database
Functionality / deployment
For the realization of industrial 4.0-implementations must existing heterogeneous machines be networked. CoDaBix® is the right solution here. Industry 4.0 lives from flexible communications in both the horizontal (PLC / Control-level) as well as in the vertical direction (MES / PPS / SCADA). A connection between man, machines and objects requires a network to a large extent. Most of the machines, and even the latest, however, are often designed as "point solutions" or series machines. Each application, each PLC, each device has its own structure. The supplier provides according to their own specifications data and control options via different routes.
In the first step this heterogeneous machines must be "harmonized into" a common system. So is a central access to process data and machine information possible. CoDaBix® provides the ideal solution for this task.
CoDaBix® integrates OPC-UA, WEB services and database in a single system. The base is a SQL database (MySQL or SQLite). Historical values are stored in the database with timestamp. Above OPC UA, REST-JSON-service can be read or written to the defined variables and historical data.
Configuration

Above the Web-based-Configuration-GUI, the structure of the machine is defined in a tree-shape.
Here were set variables etc. The variables are connected via the plugins directly to the machine. All nodes can be centrally accessed, read and written via OPC-UA / REST-JSON. Access will be controlled via the user administration. So the names in the PLC are decoupled to terms in the operator's installation. The data will be "harmonized".
CoDaBix® There are two variants: "Compact" and "Server". "Compact" is intended for use directly on machines network, "Server" is designed for use on servers / Internet. CoDaBix® is installed on a Windows desktop (Win 7/8/10) or server (from 2008R).
Set up as a service performs CoDaBix® runs silently in the background.
Features
CoDaBix® Features CoDaBix®-installations can be mutually linked, and communicate so hierarchically. CoDaBix® has integrated all important interfaces to PLC and MES, these can be in any way linked:

Windows 7/8/10 desktop/server 32/64 bit with .NET-framework
OPC-UA-compatible nodemanagement
OPC-UA (server/client), DA, HDA, event, ...
Database (SQL) WEB-service (REST) over JSON-protocol (read and write of process-values)
Historical database, with timestamp from the occurrence of the process value
CSV/XML-bidirectional interface
WEB-based configuration
Communication in horizontal and vertical directions
Trigger-manager for synchronizing the data-acquisition
Protocols for connection to the main types of PLCs SIMATIC S7 and S5
Modbus (Schneider/ WAGO / Beckhoff)
OPC (UA / classic / client / server)
Integrated user management
Modular construction
Notification-modul (smartphone), email
Open .NET-(C#)-developer-interface
Javascript/typescript-plugin (conditionscripts)
Harmonization of heterogeneous systems
Individually and as a "royalty free" licensable
Licensing
CoDaBix® can be licensed as a single-version or as site-/developer-version. It is enabled via a license-key. Optionally, a dongle can be used as a license medium.
single-license:
Art. ID.
name
price
quantity
9776-C-E
CoDaBix Compact, single license
OPC-UA-Server, DA, HDA, Filetype
REST-JSON
5 Client Connections
on request
9776-CSV-E
CoDaBix CSV Plugin, single-license

on request
9776-DB-E
CoDaBix Database Plugin, single-license
Connect CoDaBix to different DataBases
(MSSQL, MySQL etc.)
in for writing (xml-controlled)
max. 500 variables
on request
9776-H1-E
CoDaBix H1-plugin 10, single-license
10 PLC Connections included
on request
9776-H1-E-50
CoDaBix H1-plugin 50, single-license
50 PLC Connections included
on request
9776-H1-E-50+
CoDaBix H1-plugin 50+, single-license
unlimited PLC Connections included
on request
9776-I2C-E
CoDaBix I2C-plugin for Raspberry, single-license
For Raspberry Pi 2/3
on request
9776-Mitsubishi-E
CoDaBix Mitsubishi-TCP/IP-plugin 10, single-license
10 PLC Connections included
on request
9776-Mitsubishi-E-50
CoDaBix Mitsubishi-TCP/IP-plugin 50, single-license
50 PLC Connections included
on request
9776-Mitsubishi-E-50+
CoDaBix Mitsubishi-TCP/IP-plugin 50+, single-license
unlimited PLC Connections included
on request
9776-Modbus-E
CoDaBix Modbus-plugin 10, single-license
Modbus over TCP/IP
10 PLC Connections included
on request
9776-Modbus-E-50
CoDaBix Modbus-plugin 50, single-license
Modbus over TCP/IP
50 PLC Connections included
on request
9776-Modbus-E-50+
CoDaBix Modbus-plugin 50+, single-license
Modbus over TCP/IP
unlimited PLC Connections included
on request
9776-RFC1006-E
CoDaBix RFC1006 Plugin (IsoOnTCP) 10, single-license
Client und Server
10 Connections included
on request
9776-RFC1006-E-50
CoDaBix RFC1006 Plugin (IsoOnTCP) 50, single-license
Client und Server
50 Connections included
on request
9776-RFC1006-E-50+
CoDaBix RFC1006 Plugin (IsoOnTCP) 50+, single-lic.
Client und Server
unlimited Connections included
on request
9776-RPI
CoDaBix Compact Core, single-license
200 variables, OPC-UA-Server, REST-JSON,
Scriptplugin, XML/CSV
2 x SQL-DB-connection
1x device-plugin by choice (S7, Modbus,
OPC-UA-Client, RFC-1006, etc.)
incl. peripheral I/O-plugin of the used plattform
Kunbus / UniPI etc.)
on request
9776-S7-E
CoDaBix S7-TCP/IP 10, single-license
10 PLC Connections included
on request
9776-S7-E-50
CoDaBix S7-TCP/IP 50, single-license
50 PLC Connections included
on request
9776-S7-E-50+
CoDaBix S7-TCP/IP 50+, single-license
unlimited Connections included
on request
9776-SCRIPT-E
CoDaBix Scripting-Interface, single-license
Extends CoDaBix with Type-Script interface for
flexible Data-Access
100 scripts
on request
9776-Socket-E
CoDaBix Socket (TCP) 10, single-license
10 PLC Connections included
on request
9776-Socket-E-50
CoDaBix Socket (TCP) 50, single-license
50 PLC Connections included
on request
9776-Socket-E-50+
CoDaBix Socket (TCP) 50+, single-license
unlimited PLC Connections included
on request
9776-SQL-E
CoDaBix SQL-Plugin, single-license
Connect CoDaBix to different DataBases
(MSSQL, MySQL etc.) in for reading and
writing (scripting-interface)
500 Variables include
on request
9776-UA-E
CoDaBix OPC-UA-Client Plugin, single-license
up to 10 OPC-UA-Serverconnections included
on request
9776-UA-E-50
CoDaBix OPC-UA-Client 50 Plugin, single-license
up to 50 OPC-UA-Serverconnections included
on request
9776-UA-E-50+
CoDaBix OPC-UA-Client 50+ Plugin, single-license
unlimited OPC-UA-Serverconnections included
on request
9776-UASV
CoDaBix OPC-UA-Server 10
Data Access, Historical Data Access,
File Access
up to 10 connections
on request
9776-UASV-50
CoDaBix OPC-UA-Server 50
Data Access, Historical Data Access,
File Access
up to 50 connections
on request
9776-UASV-50+
CoDaBix OPC-UA-Server 50+
Data Access, Historical Data Access,
File Access
unlimited connections
on request
9776-XML-E
CoDaBix XML-Plugin, single-license

on request
site-license:
Art. ID.
name
price
quantity
9776-C
CoDaBix Compact, site-license
OPC-UA-Server, DA, HDA, Filetype
REST-JSON
5 Client Connections
on request
9776-CSV
CoDaBix CSV Plugin, site-license

on request
9776-DB
CoDaBix Database Plugin, site-license
Connect CoDaBix to different DataBases
(MSSQL, MySQL etc.)
in for writing
on request
9776-i4.0-S7
CoDaBix Industrie 4.0 S7-Package
OPC UA Server, MQTT, REST/JSON
SQL-Exchange, Script-Interface
10 S7-Connections included
on request
9776-i4.0-S7+
CoDaBix Industrie 4.0 S7-Package PLUS
OPC UA Server, MQTT, REST/JSON
SQL-Exchange, Script-Interface
unlimited S7-Connections included
on request
9776-RFC1006
CoDaBix RFC1006 Plugin (IsoOnTCP), site-license
Client und Server
10 Connections included
on request
9776-S7
CoDaBix S7-TCP/IP, site-license
10 PLC Connections included
on request
9776-SCRIPT
CoDaBix Scripting-Interface, site-license
Extends CoDaBix with Type-Script interface for
flexible Data-Access
100 scripts
on request
9776-SQL
CoDaBix SQL-Plugin, site-license
Connect CoDaBix to different DataBases
(MSSQL, MySQL etc.) in for reading and
writing (scripting-interface)
500 Variables include
on request
9776-UA
CoDaBix OPC-UA-Client Plugin, site-license
up to 10 OPC-UA-Serverconnections included
on request
9776-UASV
CoDaBix OPC-UA-Server 10
Data Access, Historical Data Access,
File Access
up to 10 connections
on request
support-service:
Art. ID.
name
price
quantity
SUP-9776-C
Subscription CoDaBix Compact, site-license
12 months subscription
new features and support included
on request
SUP-9776-C-E
Subscription CoDaBix Compact, single-license
12 months subscription
new features and support included
on request
SUP-9776-CSV
Subscription CoDaBix CSV Plugin, site-license
12 months subscription
new features and support included
on request
SUP-9776-CSV-E
Subscription CoDaBix CSV Plugin, single-license
12 months subscription
new features and support included
on request
SUP-9776-DB
Subscription CoDaBix Database Plugin, site-lizenz
12 months subscription
new features and support included
on request
SUP-9776-DB-E
Subscription CoDaBix Database Plugin, single license
12 months subscription
new features and support included
on request
SUP-9776-H1-E
Subscription CoDaBix H1-Plugin 10, single-license
12 months subscription
new features and support included
on request
SUP-9776-H1-E-50
Subscription CoDaBix H1-Plugin 50, single-license
12 months subscription
new features and support included
on request
SUP-9776-H1-E-50+
Subscription CoDaBix H1-Plugin 50+, single-license
12 months subscription
new features and support included
on request
SUP-9776-i4.0-S7
Subscription CoDaBix I4.0 S7-Package, single-license
12 months subscription
new features and support included
on request
SUP-9776-i4.0-S7+
Subscription CoDaBix I4.0 S7-Package PLUS, sing.lic.
12 months subscription
new features and support included
on request
SUP-9776-Mitsubishi-E
Subscription CoDaBix Mitsubishi-TCP/IP Plugin 10
Single-license
12 months subscription
new features and support included
on request
SUP-9776-Mitsubishi-E-50
Subscription CoDaBix Mitsubishi-TCP/IP Plugin 50
Single-license
12 months subscription
new features and support included
on request
SUP-9776-Mitsubishi-E-50+
Subscription CoDaBix Mitsubishi-TCP/IP Plugin 50+
Single-license
12 months subscription
new features and support included
on request
SUP-9776-Modbus-E
Subscription CoDaBix Modbus-Plugin 10
Single-license
12 months subscription
new features and support included
on request
SUP-9776-Modbus-E-50
Subscription CoDaBix Modbus-Plugin 50
Single-license
12 months subscription
new features and support included
on request
SUP-9776-Modbus-E-50+
Subscription CoDaBix Modbus-Plugin 50+
Single-license
12 months subscription
new features and support included
on request
SUP-9776-RFC1006
Subscription CoDaBix RFC1006 Plugin, site-license
12 months subscription
new features and support included
on request
SUP-9776-RFC1006-E
Subscription CoDaBix RFC1006-Plugin (IsoOnTCP) 10
Single-license
12 months subscription
new features and support included
on request
SUP-9776-RFC1006-E-50
Subscription CoDaBix RFC1006-Plugin (IsoOnTCP) 50
Single-license
12 months subscription
new features and support included
on request
SUP-9776-RFC1006-E-50+
Subscription CoDaBix RFC1006-Plugin (IsoOnTCP) 50+
Single-license
12 months subscription
new features and support included
on request
SUP-9776-RPI
Subscription CoDaBix for Raspberry
12 months subscription
new features and support included
on request
SUP-9776-S7
Subscription CoDaBix S7-TCPIP Plugin, site-license
12 months subscription
new features and support included
on request
SUP-9776-S7-E
Subscription CoDaBix S7-TCPIP Plugin 10, single lic.
12 months subscription
new features and support included
on request
SUP-9776-S7-E-50
Subscription CoDaBix S7-TCPIP Plugin 50, single lic.
12 months subscription
new features and support included
on request
SUP-9776-S7-E-50+
Subscription CoDaBix S7-TCPIP Plugin 50+, sing. lic.
12 months subscription
new features and support included
on request
SUP-9776-SCRIPT
Subscription CoDaBix Scrippting Plugin, site-license
12 months subscription
new features and support included
on request
SUP-9776-SCRIPT-E
Subscription CoDaBix Scrippting Plugin, single lic.
12 months subscription
new features and support included
on request
SUP-9776-Socket-E
Subscription CoDaBix Socket TCP/IP 10
Single-license
12 months subscription
new features and support included
on request
SUP-9776-Socket-E-50
Subscription CoDaBix Socket TCP/IP 50
Single-license
12 months subscription
new features and support included
on request
SUP-9776-Socket-E-50+
Subscription CoDaBix Socket TCP/IP 50+
Single-license
12 months subscription
new features and support included
on request
SUP-9776-SQL
Subscription CoDaBix SQL Plugin, site-license
12 months subscription
new features and support included
on request
SUP-9776-SQL-E
Subscription CoDaBix SQL Plugin, single license
12 months subscription
new features and support included
on request
SUP-9776-UA
Subscription CoDaBix OPC-UA-Client Plugin 10
Site-license
12 months subscription
new features and support included
on request
SUP-9776-UA-E
Subscription CoDaBix OPC-UA-Client Plugin 10
Single-license
12 months subscription
new features and support included
on request
SUP-9776-UA-E-50
Subscript. CoDaBix OPC-UA-Client Plugin 50
Single-license
12 months subscription
new features and support included
on request
SUP-9776-UA-E-50+
Subscript. CoDaBix OPC-UA-Client Plugin 50+
Single-license
12 months subscription
new features and support included
on request
SUP-9776-UASV-50
Subscript. CoDaBix OPC-UA-Server 50
Single-license
12 months subscription
new features and support included
on request
SUP-9776-UASV-50+
Subscript. CoDaBix OPC-UA-Server 50+
Single-license
12 months subscription
new features and support included
on request
bundle:
Art. ID.
name
price
quantity
3010-UPI-103-Co
UniPi Neuron 103 - CoDaBix-Bundle
Raspberry 3, 1 x LAN, 4 x DI 5-24V DC,
4 x Transistor Output max 750 mA at 50 V DC
Din-Rail-mounting
1 x analog out 0-10V, 1 x analog In 0-10(4-20)
mA, 4GB SD-card, 1 GB RAM, 4 x USB
Power-supply: 24V DC
inclusive CoDaBix-RPI
200 variables, OPC-UA-server, REST-JSON,
scriptplugin, XML/ CSV, 2 x SQL-DB-interface,
1x device plugin at choice (S7, Modbus, OPC
UA Client, RFC 1006, etc.), incl. peripheral I/O
plugin of the dependand plattform
on request